We are an experienced firm with the legal expertise in the construction field, we offer you the guidance you will need in the inspection process. We have years of experience in Arbitration, Mediation, Contract Review, Plan Review & Court Room Experience. We are your First Choice Construction Consulting Firm. We can help you hammer through your Inspection Details of your purchase with the Educated Experience of our Firm.
You are about to embark on one of the largest investments you will make, therefore you should protect your rights as a home buyer & have a LICENSED REAL ESTATE HOME INSPECTOR inspect & evaluate the present condition of your potential investment, this includes new homes as well, do not be fooled into believing that the builder is after your best interest.
Nobody will protect you in your home buying experience, EXCEPT YOU. Therefore you must become educated & make good decisions in the process, that's were a licensed HOME INSPECTOR comes in.
A good Home Inspector will be well educated in construction techniques, thorough, honest, sincere in his reporting of the facts, but it is still up to you to find the right home inspector. Make sure you interview for a good inspector because there is a difference in what we do, do not be fooled into believing in picking the cheapest inspector because we all do the same this is just not the case.
Providing a full service of inspections no matter your needs, whether your buying your Dream Home, Investment Property, Commercial Building, Stucco Inspections, Infrared Thermography, or needing a Termite Treatment. We are San Antonio, Austin & Central Texas best choice for Quality and Thorough Inspection Services.
We are your Inspection Professionals and Construction Consultants with almost 30 years of Building and Construction Experience we can help you with the toughest issue. Let our expertise work for you and take the burden away from your New Investment.
Adams Home Inspection is the right choice !!!
COVID-19 update
Although we normally encourage our clients to be a part of the inspection until the all clear is given we are encouraging them to let us do the inspection and call to discuss the results. The further people stay apart from each other the sooner we can get past this epidemic and return to our normal lives.


Adjunct Faculty San Antonio College
25 + years of construction 25 + years of construction
Integrity:
We pride our self on our honesty and accuracy of our inspections and report writing, our company offers you the integrity San Antonio & South & Central Texas Consumers seek and demand of a service oriented company.
Thoroughness:
Our inspections consist of 2-5 hours on site, our in depth inspection technics offer you the thoroughness you require in fulfilling your quest of knowledge on your investment. Providing Austin and Central Texas Thorough, Professional and Comprehensive Inspection Services
Quality:
San Antonio, South Texas and Central Texas Professional Home Inspection Firm with extensive education and experience your insured the quality you need in your new home purchase.
With over 600 hours of Education and Over 7,000 Inspections Conducted in Texas you assured Proper Inspection Techniques and Qualified Training. We are up to date on Codes, Laws, Report Writing and Industry Standards. We offer the Honesty you desire & inform you of the current condition of your purchase. We will be Working For You, without outside influences you will obtain accurate information to make the Knowledgeable Decisions You Face.
Providing Home Inspections, Real Estate Inspections, and Commercial Inspection Services for the following Texas Cities and Counties -
San Antonio, Laredo, Corpus Christi, Austin, San Marcus, New Braunfels, Bandera, Kerrville, Blanco, Uvalde, Del Rio, Seguin, Floresville, Pleasanton, Three Rivers, Hondo, Lavernia, Karnes City, Port Aransas - Counties - Bexar, Wilson, Travis, Valverde, Mc Mullen, Frio, Comal, Kerr, Guadalupe, Blanco, Hayes, Web, Medina, Val Verde, Uvalde, Kendall, Karnes, Atascosa, Live oak, Duval, Nueces, Real, Kinney, Live Oak, Bee, San Patricio, Victoria, Williamson, Gillespe, Kimble, La Sale, Zavala, Maverick, Dimmit
We are proud members of the following organizations:
Texas Association of Real Estate Inspectors, San Antonio Texas Association of Real Estate Inspectors, San Antonio Board of Realtors, National Waste Water Transporters, Texas Real Estate Commission, Structural Pest Control Board
We are now offering
MANUFACTURED HOME ENGINEERED FOUNDATION INSPECTIONS & CERTIFICATES
For purchasing Modular Homes, Manufactured Homes and Mobile Homes. Most all manufactured type homes will often require a foundation certification to buy or sale of the home.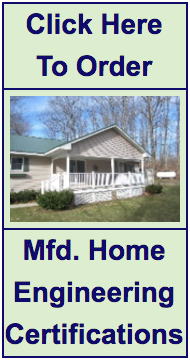 ADAMS HOME INSPECTION REVIEWS